---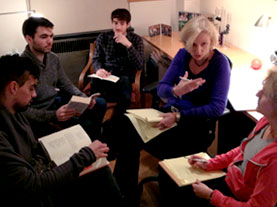 The Academic Matters team
Who We Are
Founded by Colleen Berge in 1999, the group now known as Academic Matters comprises a team of highly trained academic specialists who work with students who present a wide range of learning disabilities. We offer individualized remedial instruction for students from kindergarten through freshman year in college, and provide our students with the appropriate tools and strategies to become successful and independent learners.
Read more about the Academic Matters professional team.
---
What We Do
Academic Consultation and Remediation
The Academic Matters team offers families comprehensive educational consultation and direct remediation services that focus on helping students improve and/or compensate for any deficiencies in attention, memory, organization, abstract thinking, problem solving and related learning disabilities.
We utilize a cognitive approach to assess students' strengths and weaknesses, and implement methodologies that focus on direct remedial support for students based on this assessment. An individualized academic program is developed for each student and tailored to his or her specific needs. The staff at Academic Matters then work one-on-one to help advance the student's academic performance and then provide the necessary tools and support to improve essential areas such as time management, planning and executive function skills.
School Placement and Integration
With over 14 years of expertise in independent and special school placement, Colleen Berge and her Academic Matters team can also assist families in selecting suitable schools for their children, and help schools successfully integrate and accommodate children with learning disabilities. Academic Matters utilizes a collaborative approach to ensure that the needs of each student are met and that the foundation for academic success is put in place. All staff have advanced degrees in appropriate disciplines.
College Guidance Counseling
The Academic Matters team also provides college guidance counseling services to families, and can assist with both the identification of colleges and universities that may be appropriate for your child, and with the college application process itself.
Test Prep and Subject Support
Academic Matters provides expert one-on-one instruction in test preparation and academic subject support:
Mathematics: Elementary Math, Pre-Algebra, Algebra, Geometry, Trigonometry, Pre-Calculus, Calculus, Statistics
Science: Life Sciences, Earth Science, Biology, Chemistry, Physics
Language: French, Spanish, Latin
English: Composition, Literature Analysis, Essay Writing and Revision, Creative Writing
General: Homework Help, Study Skills, Organizational Skills, Time Management
Test Preparation: School Entrance Exams, SAT Reasoning Test, SAT Subject, ACT, Regents, APs, ISEE, SSATs, SHSATs
Read more about our services